USING A BREAD MACHINE VS. HANDMADE BREAD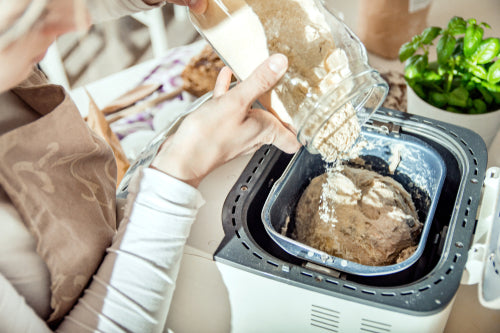 Making bread by hand or in a bread machine comes down to personal preference. Both are healthier than store-bought bread. However, the methods are slightly different, and so are the results.
BAKING IN A BREAD MACHINE VS. IN THE OVEN
Let's go over the pros and cons of using a bread machine and vice versa for baking in an oven.
Which is better? Let's find out.
THE PROS OF BREAD MACHINES:
You're not limited to bread! It can also make jams, cakes, and other baked goodies.
Use a timer and have the bread made overnight while you're sleeping.
Who doesn't like to wake up to freshly baked bread in the morning? No need for labor-intensive mixing and kneading
It conveniently saves on clean-up and prep-time.
THE CONS OF BREAD MACHINES:
Once the machine is working, it proofs and bakes on a schedule, whether the dough has risen properly or not. This means you might not always get the perfect bread.

Bread machines have a maximum

flour capacity which limits the size of the loaf you're baking.

Conventional recipes will need to be adjusted and scaled according to the amount that the machine can take.

Only bread flour is recommended. Swopping in all-purpose flour will require you to adjust the recipe. Unfortunately, Whole wheat bread recipes often result in unsuccessful loaves.

High hydration bread requires slow gluten development, usually in a fridge, and therefore can't be made in a bread machine.

Many artisan breads, sourdough, and other no-knead bread are too wet for a bread machine.
THE PROS OF OVEN-BAKED BREAD:
Shaping bread by hand gives you more control over the outcome.

You can use human discretion throughout the process.

You're able to use any kind of flour you like.
THE CONS OF OVEN-BAKED BREAD:
You have to be there for all stages of the baking process.

There is a certain level of skill required to measure ingredients, knead and shape your loaf.

Failed loaves can happen easily with simple human error, like setting the oven incorrectly or missing a step in the baking process.


THE FINAL LOAF
Many bakers have found that, although bread machines eliminate the need for labor-intensive mixing and kneading, they don't perform as well as conventional ovens.
A loaf made from beginning to end in a bread machine tends to have ugly holes where the blades were; a less aesthetic shape; a denser structure, and a thicker crust. Whereas oven-baked loaves rise higher, and the shape and flavor can be easily varied. It also has a better crust and a chewier consistency.
.Although making bread by hand takes work and leaves room for error, not only are the results better, it is also a form of art and expression.